Parramatta is a major commercial suburb which is located in the state of NSW. Selling your unwanted cars, trucks, utes, 4wds, and buses is easy with Metro car removals Sydney NSW. The analysis of car ownership indicates 34% of Parramatta households in Parramatta has access to 2 or more vehicles. (according to Parramatta city profile)
Do You Know Metro Car Removal Is The Largest Independent Owned Car Removal Company Servicing Parramatta NSW 2150?
For Metro car removal customer service is the most important aspect. Every call or enquiry is carefully handled by our consultant when you call to sell your unwanted or scrap car.  Many have no idea or struggle to sell an old car. You can just search in Google or Gumtree and look for car removal companies, but how do you know if they will pay you the dollar amount they promised over the phone? most of the cash for cars company in around Parramatta will promise something an amount over the phone but when they come to collect the vehicle they might pay the same dollar amount they promised over the phone.
Why Metro Car Removal Is Different Comparing To The Competitors In Parramatta?
At Metro car removal when you call us to sell your car we give an estimate. Our estimates are very close to our real price. When our customers give accurate information about the car make, model, rego, condition, and location then we can simply give the best price for the old or unwanted car. Secondly, our customer rating in Google and Facebook is almost close to 5 stars which is 4.9. The only company with genuine 4.9 stars rated in Parramatta and Sydney NSW. Thirdly, reliability is the key we come on time and when we promise a time yes we are there. Finally, our cash price for your car is unbelievable and the best compared to our competitors. If you find a better price let us know and we will try to beat it.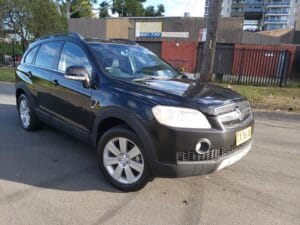 Sell Your Car With EASE To Metro Car Removal
If you are not sure where to sell your car in Parramatta then Metro car removal is the right choice. With more than 7000+ cars bought every year with top price paid is never been so easy to sell your old or scrap car to a reputable old car buyer. When we buy the car it is dismantled & wrecked for used parts and scrap metal.
Do Your Offer FREE Towing & Removal When I Book My Car Removal?
Yes, we will offer Free towing when you book your car removal service with us. No hidden cost or charges like other companies and we come to you on time.
What Do I Need When Selling My Car In Parramatta?
When collecting your car we need
Drivers License (Any valid photo ID)
Key for the car
Access to the car location (If inside the garage or any other spot)
Signing your paperwork (We offer free paperwork)
Do You Buy All Car Brands?
We buy any make or model vehicles in any condition.  We have outlined some of the brands but not limited to Toyota, Suzuki, Honda, Benz, BMW, Isuzu, KIA, Hyundai, Jeep, Mazda, Great Wall, Mitsubishi, Holden, Ford, VW, RAMS, Hino, Volvo, Saab, Subaru, Fiat, Infiniti, Nissan, Audi & many more.