If you've got an old car that needs to be removed from your garage, driveway, or yard for top cash rate, give Metro Car Removal SYDNEY a call. Running condition or not running, we can easily remove the automotive from your property and free up that much-needed space!
Get The Highest Cash For Cars & Fast Sydney Wide Removal Service! 🚗
We pay you the TOP DOLLAR for your unwanted car, which means more cash for your junk cars!!!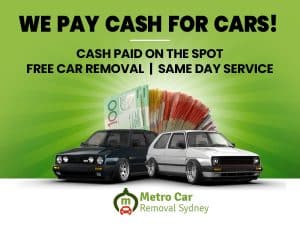 Our CASH FOR CARS service buys all sorts of vehicles throughout Sydney. Just give us a call to make an appointment.
Rather than letting your old, junk car, van or truck sit idle and collect rust and take up your valuable space, cash for cars Sydney will make sure it's properly disposed of and recycled.
Since we're fully bonded, licensed, and insured, you can sit back and relax while we handle each and every phase of junk vehicle removal.
Plus, once we've successfully removed your car or truck, you can count on cash for cars Sydney to properly dispose of even the last piece of the car in the speediest and most eco-friendly way possible.
We will definitely go out of the way to ensure that your unwanted vehicle is responsibly recycled and will do our best to avoid using any landfill.
Cash For Unwanted Cars-Utes-Trucks-Suv's-4X4-Tractors Quick Sydney Wide Pick Up
Just Check a few reasons why Metro Car Removal is the best possible choice when it comes to removing your junk car, van, truck, 4wd, or any other vehicle:
PEACE OF MIND – Our friendly removal team is fully bonded, licensed, and insured.
NO PRESSURE-Before you agree to sell your unwanted car to us, you will receive a no-obligation quote. There are no hidden charges or towing fees and we will answer all your questions about our fully transparent pricing structure.
LAST MINUTE OPTIONS – You're definitely our priority, and you can count on our same or next-day service options to save the day.
ECO-FRIENDLY CAR REMOVAL-When you deal with us for your Unwanted Cars you're also helping our fragile environment
RELAX & SMILE – You'll be all smiles because our Cash for Vehicles team is sure to deliver the most efficient, courteous, and friendly service you've ever experienced!
Call us today on 0422 600 833 or schedule your free estimate online. It's easy as 1,2,3!
How To Get Rid Of An Old Car For Money?  Schedule A Stress-Free Car Removal 
Schedule your FREE estimate online or call us on: 0422 600 833 and one of our friendly representatives will immediately check the local availability and schedule your no-obligation quote at a time that's convenient for you.
FREE QUOTE
Usually, we will call you 15-20 minutes before the scheduled pick-up time. Our professional team members will arrive on time along with the towing truck. They will complete the paperwork and will tow the vehicle away within minutes.
Stress-Free Service
We do ALL of the labour and loading no matter where your vehicle is located! Cars we remove are properly recycled or are donated. Our team will even call you after the job to make sure you're 100 percent delighted with our service!
Why Choose Metro Car Removal To Sell Your Car For Cash In Sydney?
The biggest reason to choose a cash for cars Sydney removals is that we're Sydney's most professional and respected vehicle removal service that offers top dollar for rusted junk car removal in Sydney. Call us and receive cash up to $7000 for your unwanted cars.
We've been in this business for years and have been serving the community tirelessly. We are one of the largest car removals in Sydney covering Inner West, Eastern Suburbs, Southern Sydney, Western Sydney, and Northern Suburbs. We can provide our customers with prompt service for their unwanted car removals.
When you choose a cash for scrap cars Sydney for removing your old vehicle, you're never charged any towing fee. All you get is more money for your cars.
All our car removals are completely free and we pay the quoted cash immediately before we tow it away.
We accept all makes and models such as:
√ Nissan √ Toyota
√ Isuzu √ Audi
√ Mazda √ Honda
√ Benz √ Lexus
√ BMW
and much more.
Our scrap removals are friendly and fast and most of all they're hassle-free. With us, you never have to be concerned about taking time from your busy day to meet our removal specialists, as our team works around the clock, 24 hours a day, 365 days a year to ensure we're available when you are!!
We're experts in removing any type of vehicle; in fact, our services are unmatched.
With Metro Cash For Cars Sydney You Get:
Top Dollar Quotes Up to $7,000 THOUSANDS DOLLARS on Your Unwanted Cars Removal in Sydney
With Cash on the Spot
Never a Towing Fee
Free Vehicle Removals
Fast and Friendly Professional Car Removals Sydney
Accept Any Make or Model, Running or Not
Service 24 Hour a Day
Never an Obligation
More Money
Aside from being TOP DOLLAR removal company, were also the greenest car removal Sydney company. Let's show you how!
Our Cash Rates For Cars Are One Of The Best & Competitive
Because we offer good money for buying our customers unwanted, accidental, rusted, used, and even new cars, not all of them are scrap vehicles. In fact, some of these are hard-to-sell cars, while others are where owners do have not time to sell them.
Though we don't resell the vehicles we buy, we do recycle them, reuse them, and resell their parts.
We also have a team of the largest and some of the best scrap yards in Sydney, and the industry's expert auto dismantlers who go to work as soon as we bring in any vehicle.
They begin with stripping the vehicle of all its scrap components and parts and continue until it is reduced to a bare shell. Once all the parts and components are out, we then crush and press the car, making scrap metal from its frame.
We then, reuse, recycle, and resell some of the parts, components, and scrap metal of the vehicle, which is why we can offer you TOP DOLLAR on even the most useless piece of junk!
At Metro Car Removal, We buy Any Car Make Or Mode In Any Condition
Our car removal service is FREE Sydney-wide. Once you call us and are happy with the price our drivers are booked and they will turn to your doorstep to collect the car. It's best to confirm the make, model, condition and even to send some pictures of the car during negotiation to make the buying process easy for us and for you as a seller. We don't make a fuss when buying a car, scrap, old, unwanted, new, used, running, non-running, no rego or title, wrecked, accident, Written off, repairable wite off or damaged we buy them all buy offering a FREE towing service
Get In Touch With Us Today To Get Rid Of Your Car
Interested in a free, no-obligation top dollar quote worth up to $7,000 on your junk or uncollected car in Sydney? Just give us a call on eh numbers listed below or get in touch with us online by filling up an online quote form listed on our website.
Our removal team will be there at your place as soon as this afternoon, and before they leave, they will hand over the quoted cash in your hand! It's as simple as that.
If you're looking to get rid of your Junk car then contact us online or Call Us immediately on: 0422 600 833
Metro Car Removal is a reliable scrap car removal company located in Parramatta, Fairfield Sydney NSW. Call us if you are looking for the following:
√ Money For Vans
√ More Cash For Utes
√ Cash For 4wd
Cash For Cars FAQ (Frequently Asked Questions)
What is cash for cars?
Cash for cars means was a car dealer or buyer who pays cash or money for vehicles such as cars, trucks, buses, SUVs, vans, bikes, boats, tractors, etc. In Australia, cash for cars and car removal terms go hand in hand. Cash for cars is also called money for cars or cash for vehicles.
How much money or cash do you get for selling your car to a dealer?
The cash amount for cars depends on the make, model, condition, rego or not, and type. The dollar rate paid can vary based on dealers, wreckers, and car removal companies.
Cars – $150 to $6,999 (If old, damaged, dumped, abandoned scrap, or late model cars)
Trucks – $250 to $15,000 (old, damaged, scrap, used, late model, light or heavy trucks)
Suv – $250 to $9,999 (old, used, accident, scrap, late model, and 4wds)
Is Cash For Cars Legit?
Yes, it is a legit service. At Metro car removal we pay top dollar but according to the new NSW regulation the buyer has to pay the seller either through EFT or cheque. This is to avoid any theft and valid proof of sale.
Thank you Metro Car Removal for your service. I have never had this easy and fast service before. And I'm thankful for it.
My car, unfortunately, had an issue and it's time to go, I have been searching on the internet for the best wreckers in Sydney (knowing that there are few out there) and this site came up. I sent my details to get a quote within a minute they response back straight away with the costing – it was so awesome. They say it will be arranged to get picked at 8 am but they came in a few minutes early which is again awesome !. It was a fast process and the guy who helps me was very nice and we'll mannered.
If I had another issue for my future vehicles I know who's going to be speed dial from now on
Aliti Nabalarua – Sydney
Fast response via email and phone. Got my old car removed the same day. The driver was friendly and professional, turned up at the time the office said he would. The office kept their word and paid the money they offered.
Highly recommended company. A+
Raphael Marquez  – Eastern Suburbs
We have listed some of our enquiries posted by our customers
From David – Blacktown
"2008 Suzuki SX4 Black
144768km , currently registered until end April , just been serviced.
would like to sell"

"Damage to front right bumper under headlight otherwise body intact. New battery (<1 month old). Still driveable but unregistered. Located in the northern suburbs"

Get Top Dollar Paid For Scrap Vehicles
COVID Update

: Our yard is still working and we are available to pick up cars anywhere from Sydney. We follow a strict no-contact policy when removing your car. If you have any questions please call us on our number and our staff will be happy to assist.
Enquire online today for Cash Paid For Unwanted Cars up to $7000.
Cash Paid For Unwanted Cars &  For Scrap Cars