At Metro Car Removal Sydney we currently hold the driver certificate issued by Fair Trading NSW. The certificate helps the public to understand and know that they are dealing with the legitimate business that is authorised to tow the vehicle.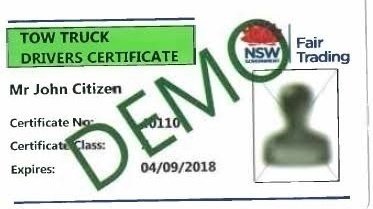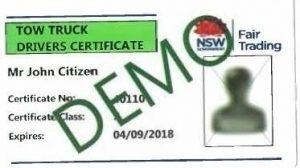 Our Responsibility As A Tow Truck Driver
As a tow truck driver, our driver as per the tow truck driver's certificate is required to meet standards and act in a suitable manner. We have outlined some of our responsibilities:
Displaying our tow truck drivers license in our truck
Behaving in a respectful and friendly manner
All our drivers wear protective clothing
Our drivers never solicit or trout work
Maintaining the truck safety and equipment
Display number plate
Insured both truck and the driver
If you need more information or are concerned about our driver call us on 0422 600 833
Operator License Issues By Fair Trading NSW
All our drivers at Metro Car Removal do have an operator license to operate the tow truck
Scrap Metal Exemption Certificate
Some of our trucks are exempted from certificates which are operating crane-type tow trucks that solely transport motor vehicles for scrap metal recycling, and are not destined for repair, reuse, or resale in their original form or as parts.
Our primary car buying yard in Fairfield East is fully insured and all our records are kept for inspection if necessary.