With the massive impact of a pandemic and INFLATION, people did what not to overcome & survive. Not only medically but also financially, it hit hard globally. So coming Christmas eve will be the first happily celebrated Christmas post-Covid in Australia and worldwide. 
The cost of living is taking a toll on many families across Australia. The question is how are we going to get that extra cash for this Christmas which can be used for gifts, holidays, or for the festive lunch or dinner?
Let A Car Removal Company like Metro Help You To Plan Your Next Christmas!
During Covid, in an attempt to celebrate this day, a survey showed that many Australians sold their beloved items like shoes, bags, electronics, clothes, and even cars too on the platforms like craigslist, Gumtree, e-bay, Facebook marketplace, etc. Here, we at Metro Car Removal & cash for cars Sydney are your helping hand in doubling the fun on your Christmas celebration day. How? Read it ahead.
Sell Your Scrap Car, Earn Big Dollars, & Buy Gifts For Christmas
We at Metro Car Removal Sydney are aware of the challenges you experience when trying to sell an undesirable vehicle. But when you work with our firm, not only can you sell your automobile for cash the same day you call, but you'll also get top dollar—up to $9,999—for it this Christmas.
We are Sydney's top-rated, LICENSED cash-for-cars business. We are aware of our client's concerns regarding how their junk or totalled car might impact the environment if it is not properly recycled. Because of this, we abide by environmentally friendly standards to lower the amount of trash in landfills, recycle metal, and reuse parts in accordance with the guidelines established by the Australian Government.
Sell My Old Car Quickly & Easily for Cash
The highest cash for cars NSW is offered by Metro Car Removals Sydney. And that's a given. Of course, the cost varies according to the age, make, model, and condition of the car. We are not saying this for the sake, of experiencing yourself by asking us for a quote and comparing it with the rest. Metro has so many diverse branches across NSW, we can provide you with more money than other CAR REMOVAL COMPANIES. When the car is sold, We'll take it to the auto dealer yard if it's a recent model with no significant problems. Regardless matter the circumstances, we have you covered this Christmas. You can currently sell your vehicle for cash to Metro Car Removal Sydney, including:
Luxury automobiles

A sports car

Pristine Vehicles

Scrap vehicles

Cars With Damage

Older automobiles

commercial automobile
Our Method Of Buying Your Vehicle:
To sell your car for cash, Metro Car Removal Sydney provides a quick and uncomplicated approach to car removal. Our appraisers will assess the specifics and provide a price quote when you call us to provide information about your car or fill out our online form with the information. If you accept the offer, you can then let us know the date, time, and location of the transaction. Before we remove the car for free, we will provide you with an instant cash payment for it. Along with providing free same-day automobile removal, Metro Car Removal Sydney also handles all the paperwork for no additional cost.
You may certainly decide to sell your car yourself, but why would you want to when Metro Car Removal Sydney offers you the convenience, pays you a top price of up to $9,999, and saves you time and hassle? You can earn money for Christmas without having to deal with intrusions into your life or hassles from strangers. Remove the used, scrap, or abandoned car from your property and earn sufficient money to double the fun this Christmas.
Our Environmentally Benign Free Car Removals
You can be confident that when you choose Metro Car Removal Sydney to remove your car, it won't be disposed of in a landfill, which is bad for the environment. Nearly every component of your car is disassembled, recycled, reused, or renovated by Metro Car Removal Sydney. We provide a green alternative to your car sitting idle in your garage or backyard over time, potentially harming the environment through fuel and chemical leaks, corrosion, and other forms of damage.
Are Free Towing Services Offered?
We won't ask you to bring the car to our site because we don't want to take up and squander your important time. For convenience and hassle-free car removal, we provide Free Car towing.
In order to deliver our tow truck and the cash for cars payment to your location, please let Metro Car Removal know when it is convenient for you to do so. The transaction will be scheduled at a time that works for you.
Whether it's Dawn or Dusk, We Are Always Accessible To Make Your Christmas Celebration More Cheerful.
You can buy and have your junk automobile picked up today. We'll visit you when it's convenient for you, whether that's straight away or next week. We are aware that the majority of our customers have demanding 9–5 jobs and may struggle to find time to have their junk cars picked up. To accommodate your hectic schedule, Metro Car Removal Sydney offers free car removals both in the morning and in the evening.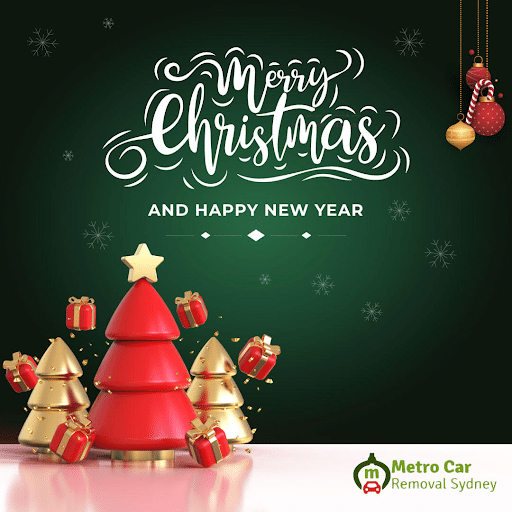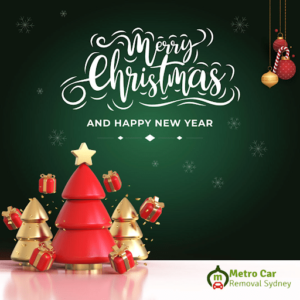 Sell Your Unwanted Car This Christmas With Ease
Look no further than Metro Car Removal Sydney for a lightning-fast car sale that pays instant cash for SCRAP cars. With our extensive experience, we recognise the value of honest cash offers and a high degree of service. Call us at 0422 600 833 right now for a quote.
We at Metro Car Removals wish all our customers Merry Christmas And A Happy New Year!